Alle posts met tags 'HKconcerten presents'
Geplaatst op vrijdag 2 november 2012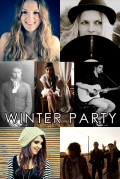 Na een succesvolle opening van HKconcerten genaamd "Acoustic Sunday" is het op vrijdag 23 november tijd voor een winter editie! Steekwoorden zijn: Vuurkorven, Kaarsjes, Stamppot, Erwtensoep, Gluhwine, Warme choco met slagroom en MUZIEK! Er zal vanaf 18.00 live muziek zijn van: Angela Moyra, Daniel Versteegh, Sue the Night, Stef Classens, Daimy Lotus, Sandy Dane en La Corneille! Locatie: VVC Almere (Bolderweg 42)
Datum en Tijd: Vrijdag 23 november vanaf 18.00
Kosten: € 10,00 Kaartjes zijn te reserveren via Sandy Dane ( Twitter & Facebook of stuur een berichtje ). Het is voor het grootste deel buiten, dus kleed je warm aan! LET OP: Helaas zullen Mister & Mississippi op deze dag niet aanwezig zijn.
|
Lees het volledige bericht
| Tags:
HKconcerten presents
,
Acoustic Days
,
Angela Moyra
,
Daniel Versteegh
,
Sue the Night
,
Stef Classens
,
Daimy Lotus
,
Sandy Dane
Gerelateerde pagina's:
Sandy Dane
,
Sue the Night
,
Angela Moyra
,
Daniel Versteegh
,
Stef Classens